Creating a New Website needs knowledge of coding but in today's world, it has become easier to build the website and blogs easily without having the knowledge of coding. Yes, this is possible and much simpler by using WordPress for your business.
Now we will understand it in a much simpler way.
What is WordPress?
WordPress is an open-source content management system (CMS). It is a popularly used use to build websites and blogs without any coding experience. WordPress contains templates that can help you to customize your Business website, blogs, and portfolio.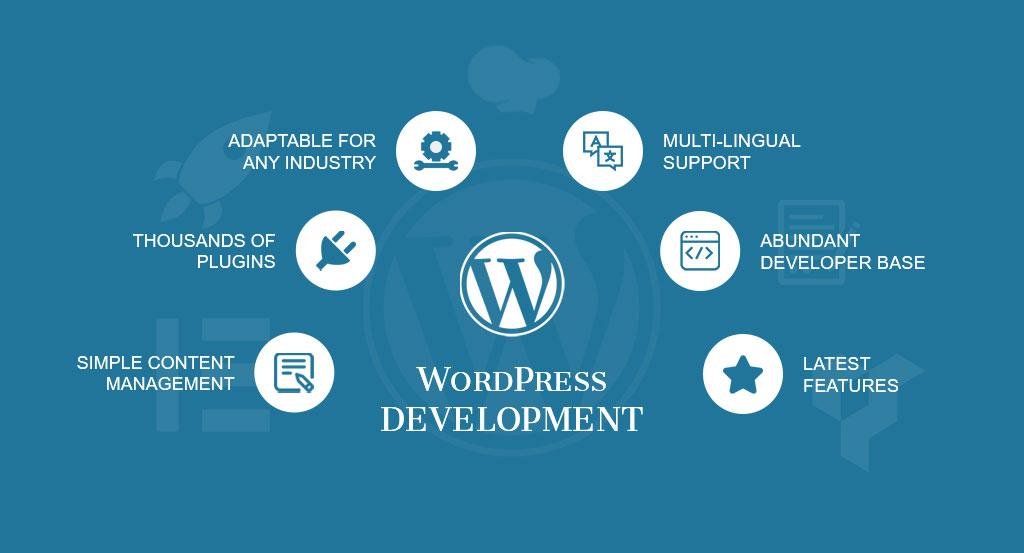 What types of websites can you build with WordPress?
There are various websites that can be built:
Blog
Business website
Ecommerce website
Portfolio website
Online community
Multilingual website
Wiki/knowledge website
Magazine and digital publishing websites
Amazon – Affiliated stores
SAAS
A Multisite Network
Advantages of using WordPress:
It makes building a website easily and faster will a lot of benefits. Let's have a look at the benefits:
Simple and easy to use– If you dream of building a website but don't like complicated coding WordPress can make things much easier. It comes with an inbuilt dashboard where users can add new pages, change the theme, and much more.
Flexibility –  WordPress is really flexible enough to accommodate and adapt to all the needs through 2200+Plugins and extensions.
Cost-Effective – You can build a website for your business freely on WordPress. You can simply download and starts building your website as the maintenance expenses of a WordPress site are relatively cheap.
SEO-FRIENDLY – WordPress creates an SEO-Friendly website. There are in-built plugins that will help the site to gain more traffic and rank high in search engines like Yahoo and Google. You can use various plugins like Yoast Seo, Seo Ultimate, etc.
Responsive Website – CMS is the best choice if you want your website to be accessible on all devices. To make the website user-friendly it should open on tablet , smartphone, or desktop computer.
Open Source – Open source software is software whose source code is made available for use or modification by anyone. WordPress is open source software so its code is being updated and modified by developers every day. It provides various new plugins and attractive themes which make users build a unique website.
Future of WordPress platform and how it affects the development market.
Let's talk about the future of WordPress as it is becoming more useful nowadays. Being open-source software it provides much functionality on daily basis makes user attracted to it. This means your website will have high security and high speed making your website grow more and more.
WordPress provides various templates and features to make your website customize and attract a large number of people. It will benefit beginners who want to make a business website and don't know much coding by using various tools and providing them the traffic. Due to its high popularity, it will optimize your website to maintain a high standard of user experience for one who wants to compete and make a unique website.
As 98 versions of WordPress have already been released and it will grow much in the future. It is also available in 68+ languages. In the business world which is totally digitalized websites are more critical and WordPress is ahead for unique customization.